News
Book Launch for Rosa Alcala's MyOTHER TONGUE, Sunday 6/25, NYC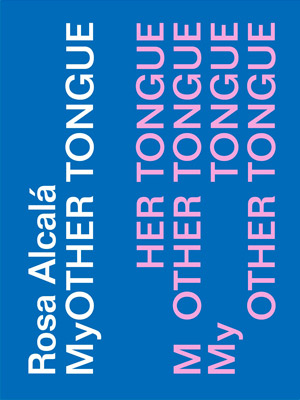 June 23, 2017
Come on down this Sunday for a book party for Rosa Alcalá's new Futurepoem book MyOTHER TONGUE.

BOOK PARTY

for

MyOTHER TONGUE
by Rosa Alcalá

with Readings by
Rosa Alcalá, Cecilia Vicuña and Carmen Giménez Smith

Hosted by our friends at McNally Jackson books.

Sunday June 25th, 7-9 PM Free
McNally Jackson Books
52 Prince Street, NY, NY
View Facebook Invite
McNally Jackson Books Event Page


About Rosa Alcalá:
Rosa Alcalá is the author of Undocumentaries and The Lust of Unsentimental Waters. The recipient of an NEA Translation Fellowship, she has translated the work of Cecilia Vicuña, Lila Zemborain, and Lourdes Vázquez, among other poets. Spit Temple: The Selected Performances of Cecilia Vicuña, edited and translated by Alcalá, was runner-up for a PEN Award for Poetry in Translation. Born and raised in Paterson, NJ, she now lives in El Paso, TX, where she teaches in the Department of Creative Writing and Bilingual MFA Program at the University of Texas-El Paso.
About the other readers:
Cecilia Vicuña is a poet and multimedia artist born in Santiago de Chile. She has been in exile since the military coup in Chile in l973. She is the author of twenty two books of poetry, most recently Spit Temple: The Performances of Cecilia Vicuña, edited & translated by Rosa Alcalá. About to Happen, an artist book, was published earlier this year by Siglio Press. Cecilia Vicuña: The Selected Poems (1966-2015) is forthcoming from Kelsey Street Press, 2017.
Carmen Giménez Smith is the author of a memoir, Bring Down the Little Birds (University of Arizona), four poetry collections—Milk and Filth (University of Arizona), Goodbye, Flicker (University of Massachusetts), The City She Was (Center for Literary Publishing) and Odalisque in Pieces (University of Arizona)—and three poetry chapbooks—Reason's Monsters (Dusie Kollectiv), Can We Talk Here (Belladonna Books) and Glitch (Dusie Kollectiv). She has also co-edited a fiction anthology, My Mother She Killed Me, My Father He Ate Me (Penguin). She is the recipient of a 2011 American Book Award, the 2011 Juniper Prize for Poetry, and a 2011-2012 fellowship in creative nonfiction from the Howard Foundation. Formerly a Teaching-Writing Fellow at the Iowa Writers' Workshop, she now teaches in the creative writing programs at New Mexico State University and Ashland University, while serving as the editor-in-chief of the literary journal Puerto del Sol and the publisher of Noemi Press. She lives with her husband, the writer Evan Lavender-Smith, and their two children in Las Cruces, New Mexico.