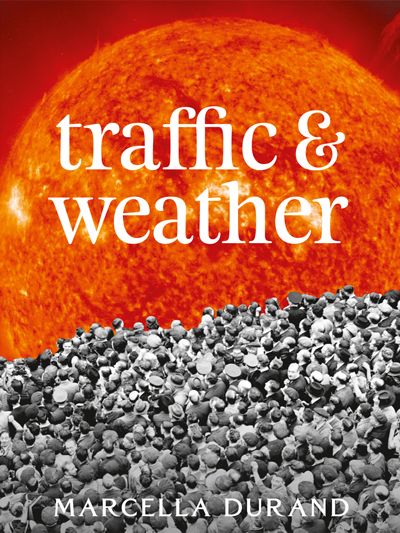 Traffic and Weather
Marcella Durand

Fall/Winter 2008/09
Paperback Poetry/Prose
ISBN-13: 978-0-97-16800-9-8

72 Pages, 6 X 8
$15.00 U.S.

Buy online from SPD Bookstore

General ordering info.

"Traffic and weather hold all that we know about multipleness in their loose, but insistent embrace. This multiple, seething, singing confluence rises up out of the city of life to join the enigmatic sky and clouds in Marcella Durand's magnificent, brutal, delicate epic. It's a stunning achievement."
—John Ashbery

"In the poetic accumulation of Traffic & Weather, Marcella Durand creatively describes the city as a neo-Roman enclave before darkness sets in."
—Will Alexander

"What is the nature of the places we inhabit? And how are they none other than ourselves? This book explores these questions in a single intricate text that presents the city as an organism, often breaking down and always vibrant, set amid a landscape that is equally problematic and thriving. From a wet footprint on a paper bag to "the mechanics of light when splintered by construction," Durand touches the pulse-points and brings all that life to the page."
—Cole Swensen

Marcella Durand's other books include Area (Belladonna), The Anatomy of Oil (Belladonna), Western Capital Rhapsodies (Faux), City of Ports, and Lapsus Linguae (both from Situations). Her poems, essays and translations have appeared in The Nation, Conjunctions, Denver Quarterly, Verse, NYFA Current, Chain, Ecopoetics, The Poker, and other journals and anthologies. She is a former editor of The Poetry Project Newsletter and a member of the Double Change Collective. For the past few years, she has been working on a book-length translation of Michèle Métail's Les horizons du sol/Earth's Horizons, a history of the geological formation of Marseille written within an Oulipian formal constraint. From 2005 to 2006, she was a writer in residence at the Lower Manhattan Cultural Council. She lives in New York City with her husband Richard O'Russa and son Ismael Toussaint Durand O'Russa.
Marcella's Blog - Translation Workshop.com
Marcella Durand's Lower Manhattan Community Council Residency Interview Page
Interview between Anselm Berrigan and Marcella Durand