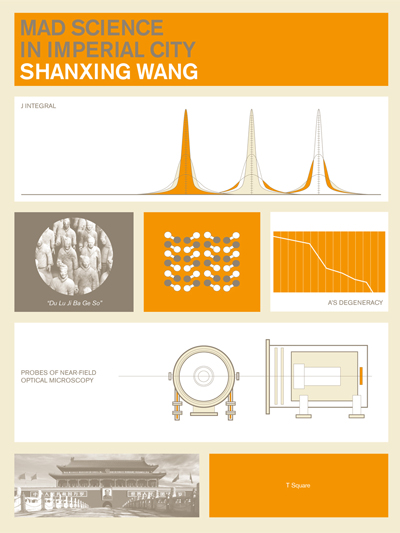 Mad Science
in Imperial City
Shanxing Wang

Available November 20, 2005
Official Pub. Date: December 1, 2005
Paperback Poetry/Prose
0-9716800-5-1
132 Pages, 6 X 8
$14.00 U.S.
"Mad Science in Imperial City is humbling, beautifully mapped and calibrated, wild with imagination, wit, irony. I think it is one of the most naturally brilliant books I have read of late. Shanxing Wang brings his engineering genius to his genius for a new magical/radical language. Many bows in my old mandarin robe to this impressive debut collection."
—Anne Waldman
"Shanxing Wang's Mad Science in Imperial City is a work of genius. It is intended to be so, and it is saturated with the melancholy and exhibits something of the fear that genius in its machinations may produce. The book is also comic, sometimes desperately and more often happily so; the forces of genius are multiple.
Comprised of four inter-related works—which might also be termed chapters or perhaps sections of a serial poem—this book escapes characterization; escape, in fact, is one of its motifs. But it is an escape carried out paradoxically through invasion—it finds ways out by finding ways in. The work lays out for itself multiple trajectories, including some provided by math, mechanics, phantasy, music, film, and above all by dreams (or are they nightmares?) of life in and out of a plan.

Culture shapes itself to grids; or, perhaps, gridding and cultural production are the same thing. Shanxing Wang's Mad Science in Imperial City proceeds through involutions and across equations to create an astonishingly original counter to the catastrophe of the contemporary world. This is a brilliant book."
—Lyn Hejinian

"Mad Science in Imperial City is propelled by the personal loss and trauma Shanxing Wang experienced during the political turbulence of the 1980s which culminated in the 1989 tragedy at Tiananmen Square. From this personal experience, Wang has created a work of art-in-language which breaks new territories of poetic form. The central urgency of Wang's work is a fractured personal and ideological loss; mirroring this, the work manufactures its own form on the page as a broken narrative. Like Dictee by Theresa Hak Kyung Cha, Wang's work materializes the shattered effects of cultural history on the mind of the poet who is trying to piece his life together in its devastating and unresolved wake."
—Kristin Prevallet
Shanxing Wang was born in Jinzhong, Shanxi Province, China, and educated at Xi'an Jiaotong University. In 1991, he came to the U.S. to pursue a PhD in Mechanical Engineering at University of California at Berkeley. While teaching Engineering at Rutgers University, he began taking courses in Creative Writing and subsequently received a Zora Neale Hurston Scholarship to attend the summer writing program at Naropa University in Colorado. In 2003, he was selected as a finalist for the Pen USA Emerging Voices Rosenthal Fellowship. Mad Science in Imperial City is his first book. He currently lives and writes in Queens, New York.