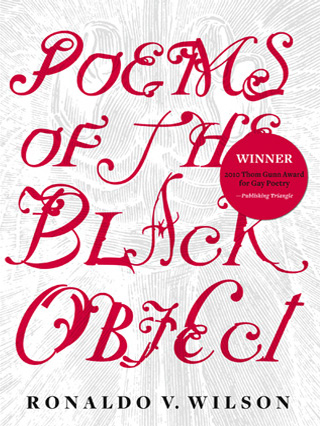 Poems of the Black Object
Ronaldo Wilson

Fall 2009
Paperback Poetry
ISBN-13: 978-0-9822798-0-9


112 Pages, 6 X 8
$15.00 U.S.

Buy online from SPD Bookstore

General ordering info.

"Ronaldo Wilson's Poems of the Black Object is a warning to anyone tempted to believe that in objectification lies freedom. Livid inside an apocalyptic negative capability, these poems are constructed through their maker's deconstruction, and reading, I too, felt unmade. In this uncompromising book, Wilson negotiates the terrain of his individual and culturally constructed identity vowing 'To identify with the fractured self, the process of the it forced apart by language.' Though it is through the image, or 'found photo' that the poet locates a 'forming poetic,' it is in the transformative syntax of this fierce book, in the revision of a first language commonly called mother-tongue, that somewhere entirely new is made."
—Claudia Keelan

"Ronaldo Wilson's Poems of the Black Object turns the parenthetical inside out, contents kicking and alive, person, race and being: where fate is in store in you, not for you, out there; in consciousness, and barely conscious, where consciousness is the accumulation of the scarcely discernible experiences. Wilson's poems captures states of person, the thinking being, the being thinking, the being perceived, and all the slippage between stages of person, Black and on the page, folding and unfolding layers of social construction."
—Erica Hunt

"I applaud Ronaldo Wilson's pathbreaking movement into what has never, never, in history, been said. About sexuality, in particular, these poems speak with incorrigible and raving clarity. And, always, they display intellectual curiosity, and an impatient, gorgeous readiness to make language new."
—Wayne Koestenbaum


"The force here is in the erotic attachment between the human figures certainly—but also (and more surprisingly) between history and present-day experience. Ronaldo Wilson teases the reader with earnestness while he refracts event and experience. The effect is dazzling. The poems are panoramic. One part slave narrative, one part pillow book, Poems of the Black Object is a triumph of the social lyric: violent, tender, absurd."
—G.E Patterson

"For all the disturbances examined in this intensely lucid book of bodily desire, dead porn stars, and the high art of human survival, the voice of these poems manages to maintain a kind of giddy composure. Perhaps the trick of it comes through his sense that, 'pattern organizes trauma, and so does speed.' It's not so fast, the pace here; we're made to look, to see, with shrewd intention. It's that Ronaldo Wilson's writing doesn't let you get too comfortable. It shifts experience and reckoning from poem to essay, theory to epistle, these intuitive modes of a person in search of a particular poetics, darting around sharp visions that could bloody or shine on the tempestuous landscape 'the black object' emerges from."
—Tisa Bryant

Ronaldo V. Wilson is the author of Narrative of the Life of the Brown Boy and the White Man, winner of the 2007 Cave Canem Poetry Prize (University of Pittsburgh Press, 2008). He is a graduate of U.C. Berkeley, NYU's Graduate Creative Writing Program, and holds a PhD in English from the CUNY Graduate Center. Wilson has held numerous fellowships to include the National Research Council Ford Foundation, Provincetown Fine Arts Work Center, Cave Canem, Kundiman, Djerassi, and Yaddo. A co-founder of the Black Took Collective, he currently teaches creative writing, literature, and African American poetics at Mount Holyoke College.
Read a press release for Ronaldo Wilson's Cave Canem Award for Narrative of the Life of the Brown Boy and the White Man